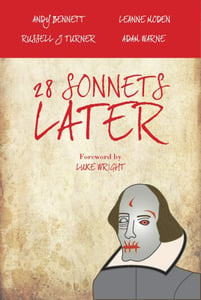 £

4.00
"The whole collection is bursting with modern life ...
It's immediate, relevant and has a great sense of fun!" - Luke Wright
In February 2012, four poets challenged themselves to write a sonnet a day.
28 Sonnets Later is the result.
Andy Bennett is a poet, comedian, and idiot. His first collection of poetry, Daddy, What's A Poet? is also published by deadbeat press.
Leanne Moden is a performance poet from Wisbech, and was recently voted second best poet in the Fens (it's a small circle.) She performs poetry around the East of England and mainly eats cheese sandwiches.
Russell J Turner is an actor, poet and broadcaster based in Norwich. He survives solely on a diet of caffeine and nicotine, which he metabolises into useful nutrients.
Adam Warne puts the try into poetry. His poems have been published online and in The Rialto and as a stand-up comedian he's performed across East Anglia.